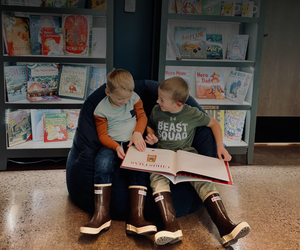 Kodiak's Community-Inspired Indie Bookstore
About the Islander
Find Your Next Great Novel or Gift at the Bookstore
Living on an island, we all know the feeling of frustration when searching for your next good book or a perfect gift, especially when you need it now.  You end up sending your hard earned money off the island to big name companies and pay extra for rush shipping to get it here in time.
The Islander Bookshop brings new books and gifts to our island community every season so the selection is always being updated.
You'll find a cozy gift, a gift card, and your next great read at the moment that you need it.  Every time you purchase locally you help create the community in which you want to live.
Scroll through the box below to discover the thrilling lineup of events slated for this winter season at The Islander Bookshop! In our updated event calendar, you'll come across author book signings, enticing pop-ups, and, by popular request, the return of workshops!

RSVP today and add the event to your personal calendar.
How to Place a Special Order
1. Fill out this form

2. We will order the book for you. No pre-payment required and no shipping charges are passed on to you.

3. In about ten business days (weather dependent) receive a text when your book arrives.
Place Order Now
The Islander is Community Inspired & Supported
Workshops, Events, Author Book Signings, Book Clubs, and More!
RSVP Now
22+ Local Artists and Authors Showcasing Their Talent & Creations
Learn More
Get Store Credit
Sell Your Gently Used Books
We are happy to announce that we are accepting used books once again for all ages and genres!
Please read the terms below prior to bringing in your books. Thank you for thinking of The Islander!
Used Book Process
Gift Cards
How to Purchase a Gift Card
You can now purchase a gift card online and have it emailed or texted to someone special. You can choose what day you would like the gift card sent!
Buy Gift Card
Check out the behind-the-scenes video of the move and expansion of The Islander Bookshop from 800 square feet to 3,000! ⤵
Testimonials
It really is such a gift to witness my kids growing up in a town with a bookstore.

Aileen F.
A visit to The Islander Bookshop is a mini vacation for anyone who likes books and coffee. 

Nat N.
The pins are my first creative endeavor. It's been such a point of pride that they have been in the book store! 

Jaclyn C. Local Artist
Giving Back To Our COmmunity
Kodiak Kindness Project
Our community has been so supportive of the bookstore so we want to pay that kindness forward. We are thrilled to donate to the Kodiak Kindness Project.
Every time a baby is born in Kodiak, they are gifted a Goodnight Moon board book from the bookstore thanks to our collaboration with the Kodiak Kindness Project. We also donate 20% of sales of books on the Kodiak Kindness shelf in the bookstore!
We Don't Just Care About Books.
We care about you, and about creating a space in our community which inspires connecting with our friends and neighbors through favorite books and gifts.
Browse Millions of Books
Shop Online for Books & Audiobooks
Bookshop: Purchase and have the books delivered straight from the warehouse to your address. Your Kodiak indie bookstore will receive a share of the sale thanks to the American Book Association which put this resource together for us. The warehouse can ship to anywhere in the U.S.! Unfortunately Islander gift cards do not work on Bookshop.org. Message if you would like to transfer a gift card tor bookshop.org
Browse Millions of Books on Bookshop
Find a New Audiobook
The Islander has been featured in...
Bookstore Hours
Located at 111 West Rezanof Drive Kodiak, Alaska 99615 in the new Marketplace building downtown Kodiak.
Open Hours:
Sunday - Thursday 10:00 AM - 7:00 PM
Friday & Saturday 10:00 AM - 8:00 PM